College and universities are busy preparing for the arrival of next year's students from across the state. Some will be first-time students moving into the resident halls, others may be moving off-campus and living on their own. It is imperative that both off-campus and on-campus students understand fire risks and the importance of fire safety measures. Minooka Fire Protection District encourages parents to remind their students to take fire drills and evacuations seriously and to be aware that fire safety is important at home and on- and off-campus. 
DID YOU KNOW?
94% of fatal campus fires from 2000-2015 took place in off-campus housing.

58% of fatal campus fires had no smoke alarms or smoke alarms that did not have batteries.

86%  of fires in a dormitory involved cooking  equipment.

Fire departments respond to an average of 11 dorm fires each day.

From 2000-2015, 89 fires have occurred on college campuses, in Greek housing and in off-campus housing killing 126 people.
Dormitory fires cause an annual average of 1 civilian death, 32 civilian fire injuries, and $14 million in direct property damage.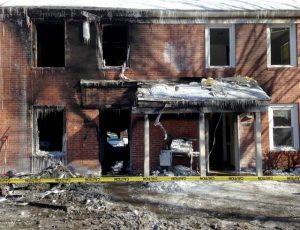 See It Before You Sign It! We encourage parents to see the off-campus apartment or house where their student will be living before signing the lease. Safe off-campus housing includes working smoke alarms, two ways out of their rooms, sprinkler systems, etc. 
When visiting a school or choosing housing, make an informed decision. Ask these questions:

How many fires have occurred on campus in the past year? How many in off campus housing?

Are on campus residence halls, and off campus housing equipped with an automatic fire sprinkler system? If not, why not?

Does every student's room have a smoke alarm and does it send a signal to campus security or to the fire department?

How many false alarms have occurred in the residence halls?

Is the fire department IMMEDIATELY notified whenever ANY fire alarm  system is activated?

What is the school's disciplinary policy towards students that cause false alarms or fail to evacuate during an alarm?

Does the school have policies that electrical appliances and power strips be certified as safe and reliable?

Are smoking, candles, and halogen lamps prohibited in the residence halls?

How much fire prevention training does the residence hall staff receive?

How often do the students themselves receive fire prevention education?

How often is fire evacuation drills conducted?

Does the school provide fire extinguisher training for all students?

Does the school provide CO detectors?
For more information, download these safety tip sheets:
National Fire Protection Association College Campus Fire Safety Tips
Campus Fire Safety: Talking to School Officials About Fire Safety
Campus Fire Safety: Talking to Landlords About Fire Safety