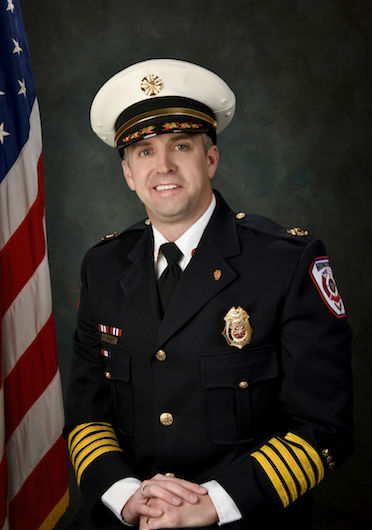 FIRE CHIEF AL YANCEY, JR
Chief Yancey provides leadership and service for the men and women of the Fire District; guiding the organization during a period of rapid change in the community and the organization. The Fire Chief manages a multi-million dollar budget, develops policy and procedure for effective, proactive service to the citizens, represents the Fire District's interest in local, state, national and international issues that affect the organization, and represents the Fire District before the Board of Trustees. The chief is also responsible for incident command at major incidents in and around the District.
Chief Yancey holds an Bachelors Degree if Fire Service Management from Southern Illinois University – Carbondale and an Associates Degrees in Administration of Justice from John A. Logan College in Carterville , Illinois. Chief Yancey is a Certified Executive Fire Officer by the United States Fire Administration – National Fire Academy, Certified Fire Officer II, Illinois EMT-B, and a National Incident Management System (NIMS) Certified Incident Commander & Planning Section Chief.
Chief Yancey began his fire service career in 1988 as a recruit firefighter in a volunteer department in downstate Illinois where he served for 14 years rising through the ranks of captain, deputy chief and becoming the department's first full-time fire chief. Chief Yancey also served as the first full-time fire chief of a department in the suburbs of Louisville, Kentucky where he led the organization through change to improve the service to a growing community. Chief Yancey has served the people of Minooka as their fire chief since August 2003.
Chief Yancey serves as the Volunteer and Combination Officer Director for the Illinois Fire Chiefs Association, Director for the Volunteer and Combination Officer Section of the International Association of Fire Chiefs, Secretary for Western Will County Communications Center (WESCOM), and president of the Des Plaines Valley Fire Chiefs Association – MABAS 15, a cub scout den leader and assistant cub master. He is married with two children and they reside in Minooka.
DEPUTY CHIEF BRAD SPRAGUE
Deputy Chief Sprague serves and the operations and readiness chief for the Fire District; guiding the day to day operations of response and in doing so providing leadership to ensure apparatus and personnel are ready to respond to emergencies in the community. Deputy Chief Sprague is the chief officer responsible for overseeing the apparatus fleet and equipment programs as well as training programs. Chief Sprague serves on multiple committees within the MABAS Division as well as other programs related to traffic safety for emergency responders. Chief Sprague is also an integral part of MABAS Divisions 15 special teams response programs. The Deputy Chief is also responsible for incident command at major incidents in and around the District.
Brad Sprague began his fire service career with Minooka Fire Protection District in 1986. He holds certifications as a Fire Officer II, Instructor III and Training Program Manager. As a lead-instructor at the Chief Shabbona Fire Academy, he developed the curriculum for the Traffic Incident Management Program. Brad Sprague brings a diverse experience as both a practitioner and Instructor within the application of Traffic Incident Management. He obtained a Bachelor's Degree in Law Enforcement Administration from Western Illinois University and a Master's Degree in Public Administration from Governor's State University.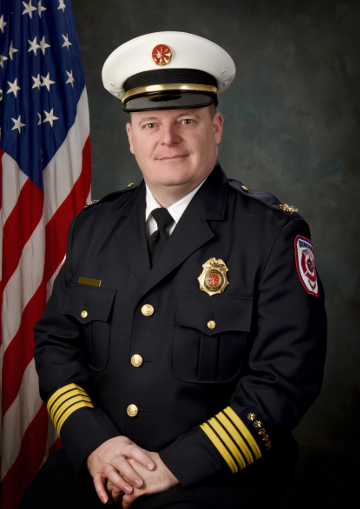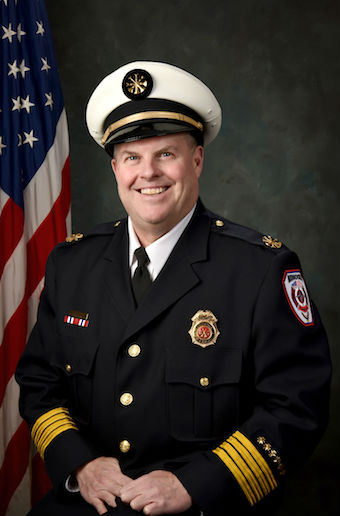 DEPUTY CHIEF WILLIAM COLLINS
Deputy Chief William Collins is primarily responsible for assisting with fire prevention, code compliance, and plan review activities around the District. He joined the Minooka Fire Department in 1980 as a cadet rose through the ranks as Firefighter, Engineer, Lieutenant, Captain, Assistant Chief and Interim Fire Chief on three occasions.
Chief Collins is a Certified Fire Protection Specialist (CFPS) through the National Fire Protection Association, Professional Grade Member with Society of Fire Protection Engineers, Professional Grade Member of the American Society of Safety Engineers and maintains State of Illinois Certified Firefighter III, Hazardous Material Incident Commander, Certified Instructor I and various Fire Prevention, and Fire Officer level certifications, including an Associates Degree in Fire Science and Bachelors Degree in Fire Service Management from Southern Illinois University – Carbondale.Deputy Chief Collins serves in the command staff at moderate to major incidents, serving as incident commander, operations, or plans chief.
Chief Collins serves on various local committees and national fire protection/disaster committees, is co-owner of local businesses and is the fourth generation living and working on the family farm. He enjoys spending time with his wife and three daughters with their 4H and FFA live stock projects and is active in his church.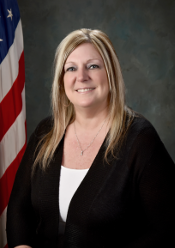 Sheri Gresham
Administrative Assistant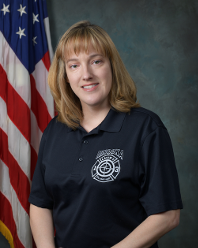 Brandy Malone
Administrative Secretary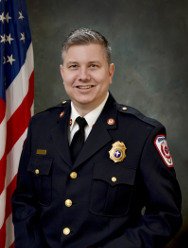 Brent Molskness
Fire Chaplain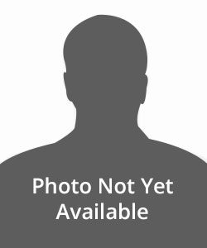 Mary Ludemann
Fire Inspector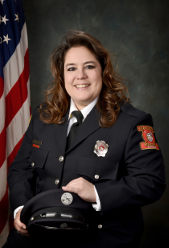 Cindy Wilson
Fire & Life Safety Educator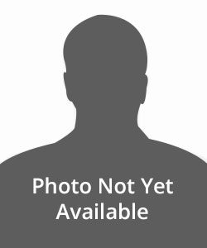 Ben Petro
Emergency Vehicle Technician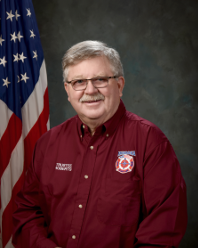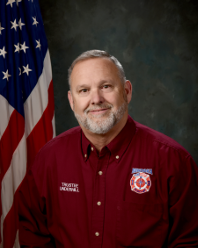 Ray Underhill
Vice President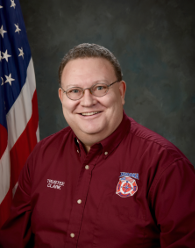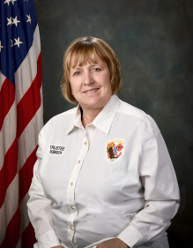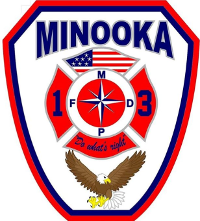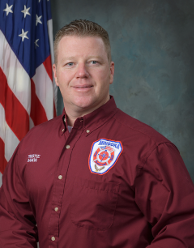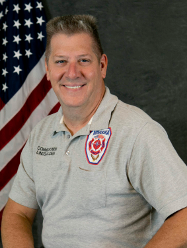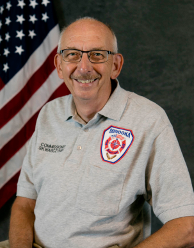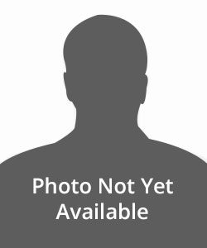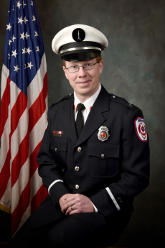 Lieutenant
Michael Hermes
Red Shift
Training Coordinator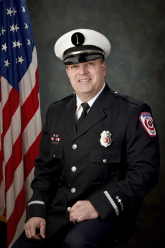 Lieutenant
Arnold Nolan
Black Shift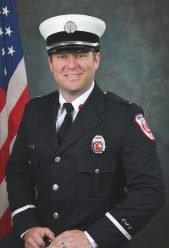 Lieutenant
Tim Schoeneck
Gold Shift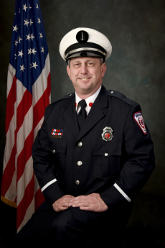 Lieutenant
Brian Mellen
Red Shift
EMS Coordinator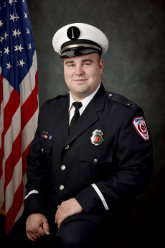 Lieutenant
Ryan Sievers
Black Shift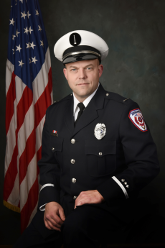 Lieutenant
Chris Estensen
Gold Shift