Chief Officers and Support Staff
The Fire District Administration includes one full-time Chief, one full-time Deputy Chief and one part-time Deputy Chief, one full-time Administrative Assistant, one part-time Office Assistant, a full-time Fire and Life Safety Educator and a part-time Fire Prevention Officer.
FIRE CHIEF AL YANCEY, JR.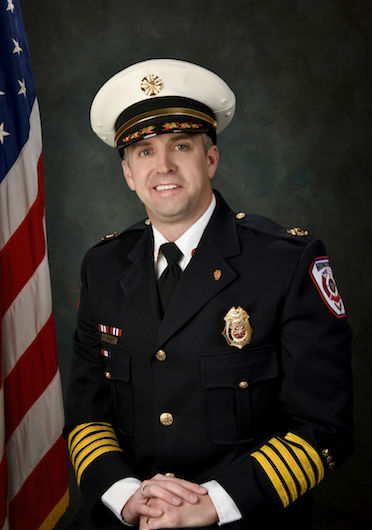 Chief Yancey provides leadership and service for the men and women of the Fire District; guiding the organization during a period of rapid change in the community and the organization. The Fire Chief manages a multi-million dollar budget, develops policy and procedure for effective, proactive service to the citizens, represents the Fire District's interest in local, state, national and international issues that affect the organization, and represents the Fire District before the Board of Trustees. The chief is also responsible for incident command at major incidents in and around the District.
Chief Yancey holds an Bachelors Degree if Fire Service Management from Southern Illinois University – Carbondale and an Associates Degrees in Administration of Justice from John A. Logan College in Carterville , Illinois. Chief Yancey is a Certified Executive Fire Officer by the United States Fire Administration – National Fire Academy, Certified Fire Officer II, Illinois EMT-B, and a National Incident Management System (NIMS) Certified Incident Commander & Planning Section Chief.
Chief Yancey began his fire service career in 1988 as a recruit firefighter in a volunteer department in downstate Illinois where he served for 14 years rising through the ranks of captain, deputy chief and becoming the department's first full-time fire chief. Chief Yancey also served as the first full-time fire chief of a department in the suburbs of Louisville, Kentucky where he led the organization through change to improve the service to a growing community. Chief Yancey has served the people of Minooka as their fire chief since August 2003.
Chief Yancey serves as the chairman of the Volunteer Combination Officer Committee of the Illinois Fire Chiefs Association, secretary of the Western Will County Communications Center (WESCOM) and Vice-President of the Des Plaines Valley Fire Chiefs Assoc. – MABAS Division 15. He is married with two children and they reside in the Village of Minooka.
DEPUTY CHIEF BRAD SPRAGUE

Brad Sprague began his fire service career with Minooka Fire Protection District in 1986 and currently holds the rank of Deputy Chief of Operations. He holds certifications as a Fire Officer II, Instructor III and Training Program Manager. As a lead-instructor at the Chief Shabbona Fire Academy he developed the curriculum for the Traffic Incident Management Program. Brad Sprague brings a diverse experience as both a practitioner and Instructor within the application of Traffic Incident Management. He obtained a Bachelor's Degree in Law Enforcement Administration from Western Illinois University and a Master's Degree in Public Administration from Governor's State University.
DEPUTY CHIEF WILLIAM COLLINS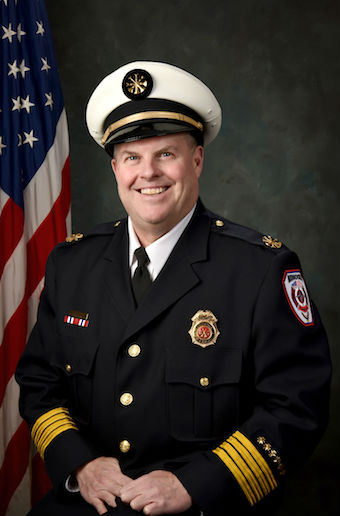 Deputy Chief William Collins is primarily responsible for assisting with fire prevention, code compliance, and plan review activities around the District. He joined the Minooka Fire Department in 1980 as a cadet rose through the ranks as Firefighter, Engineer, Lieutenant, Captain, Assistant Chief and Interim Fire Chief on three occasions.
Chief Collins is a Certified Fire Protection Specialist (CFPS) through the National Fire Protection Association, Professional Grade Member with Society of Fire Protection Engineers, Professional Grade Member of the American Society of Safety Engineers and maintains State of Illinois Certified Firefighter III, Hazardous Material Incident Commander, Certified Instructor I and various Fire Prevention, and Fire Officer level certifications, including an Associates Degree in Fire Science and Bachelors Degree in Fire Service Management from Southern Illinois University – Carbondale.Deputy Chief Collins serves in the command staff at moderate to major incidents, serving as incident commander, operations, or plans chief.
Chief Collins serves on various local committees and national fire protection/disaster committees, is co-owner of local businesses and is the fourth generation living and working on the family farm. He enjoys spending time with his wife and three daughters with their 4H and FFA live stock projects and is active in his church.
CINDY WILSON

"Firefighter Cindy" is the Fire and Life Safety Education Coordinator for Minooka and Channahon Fire Protection Districts. She was hired full time with the districts in October 2007 as part of a partnership between the two fire districts. Cindy has been in the fire service for 20 years and a paramedic for 17 years.
Cindy is a Fire and Life Safety Educator I, American Heart Association BLS CPR/First Aid Instructor, Safe Sitter Babysitting Instructor, Child Seat Safety Technician, and Juvenile Fire Setters Intervention Specialist.
BRENT MOLSKNESS

"Chaplain Brent" has served the Minooka Fire Department as chaplain since 2011. In his role, he is available to the Minooka Fire family in any way that they may need assistance in dealing with the emotional stress that a fire career brings and is available to the families of fire department members in ways that can offer them encouragement and help. He is also a point person for the victims of the tragedies that the department responds to. He helps families walk through the crisis of a home fire or the pain caused by a tragic accident, by offering them comfort and helping them through the next steps. Chaplain Brent is a member of the Illinois Corps of Fire Chaplains and the Federation of Fire Chaplains. He also serves as point person and trainer within the MABAS 15 division of department chaplains.
SHERI GRESHAM

Sheri Gresham is the Fire District's Administrative Assistant. Sheri is responsible for management of the administrative functions of the District and front office operations. Sheri's primary responsibility is bookkeeping and accounts manager for the District's finances, as well as serving as the filing secretary for the Board of Trustees activities such as meeting minutes, agendas and recording ordinances and resolutions passed by the Board. Sheri also serves as the direct administrative assistant for the Fire Chief in management of the District's administrative resources. Sheri has served Minooka Fire District since 1999.
RODNEY BRADBERRY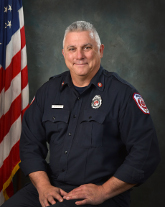 Rodney joined us in 2016 as our part time Fire Inspector. His certifications include Illinois Firefighter III, EMT-B, Fire Inspector I & II, ICC Pro Board I & II, Fire Officer I, Fire Instructor II and Plans Review. Rodney started in the fire service as a paid-on-call (POC) in 1991 with Hillside Fire Department where he later became a career firefighter for the same department in 1998. He earned his degree at Triton College in Fire Science.