Emergency Medical Service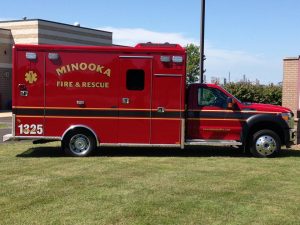 Emergency Medical Service:
Our Emergency Medical Services is coordinated internally by an Emergency Medical Services Coordinator who reports to the Deputy Chief of Operations. Our EMS operations include three Advanced Life Support (ALS) Mobile Intensive Care Units. We currently staff two of these ALS ambulances with two licensed paramedics 24/7. We also provide two advanced life support equipped and staffed fire engines to respond to assist the ambulance and first respond to multiple calls in progress and they are also staffed with paramedics and EMT-B's on a 24/7 schedule.
Our paramedics and emergency medical technicians receive continuing education approved by the Illinois Department of Public Health. Each paramedic and emergency medical technician receive their training through various hospitals and community colleges as well as in-house instructors. Minooka Fire District is in the Morris Hospital Emergency Medical System. Morris Hospital serves as our supervising hospital with a doctor serving as our medical director. Morris Hospital also provides an emergency medical service coordinator to provide education, guidance and direction to the daily operations of emergency medical service.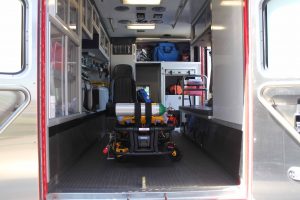 Hospital Transports:
Minooka Fire Protection District provides emergency medical ambulance service. Illinois Department of Public Health requires transportation of patients to the nearest appropriate facility, unless the emergency medical system authorizes a by-pass. Minooka Fire Protection District primarily transports to Morris Hospital, and Amita St. Joseph Medical Center in Joliet. At times patient or family request transport to Silver Cross Hospital in New Lenox or Edwards Hospital in Naperville; however, under EMS regulations we cannot transport to these facilities due to the distance, during a medical emergency.
Sometimes, due to the critical status of patients, or specialized medical issues a helicopter is requested to the scene. In these specialized situations the helicopter medical staff will make a determination as to the hospital to transport the patient. During incidents of severe traumatic injury the helicopter will transport to the nearest level one trauma center. Helicopters are requested only by our on-scene medical supervisor and incident commander once the patient has been assessed.