Fall Fire & Life Safety Tips
A clean chimney is a happy chimney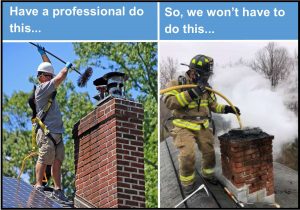 Get an annual chimney inspection. Have your chimneys inspected and swept if

needed. If the chimney (fireplace & furnace/water heater/flue) is clean and free

of obstructions, there is less danger of a chimney fire or carbon monoxide

poisoning.

Free and Clear. Make sure that the top of the chimney is free and clear of tree

branches, ivy, or overhanging branches.

Cap it. Have a chimney cap installed on all of the flues. New chimney caps are

usually constructed of stainless steel and do not rust. They keep out rain, birds,

raccoons, squirrels, leaves and other debris that could obstruct the flow of flue

gasses in your chimney.

The right fuel for the job. Well seasoned hard wood yields the most Btu's

(heat) for your fireplace or wood stove. Wood that has been split and stacked for

6 months out of the rain will be dry enough. Do not burn Christmas trees,

pressure treated or painted scrap lumber in your fireplace or wood stove.

Liquid free light. Do not use any type of liquid fire starters (lighter fluid,

charcoal grill lighter, gasoline, etc.) to start the fire. Only use fire starters

specifically designed for fireplaces and wood stoves. Besides the inherent danger

of out of control flames inside the home, some of these accelerants can leave

residues that may ignite inside the flue (chimney fire).

Keep it clear. Keep all furniture and combustible furnishings at least 36 inches

away from the fireplace or wood stove. Exposure to heat can lower the ignition

temperature of combustible items over time, and they can catch fire.

Screens or doors. Have a fireplace screen or set of glass doors with a screen in

front of your fireplace during operation. Flying sparks from sappy wood can burn

holes in your carpet or furniture. Remember, if you have glass doors, they must

be open during the operation of your fireplace, do not close them if a fire is

burning. The glass is not rated for those temperatures and the fire will be starved

for oxygen and may smoke up the home.

Smoke detectors and carbon monoxide detectors are a must. Some of the

newer units will detect both smoke and carbon monoxide, but both types should

be installed through out the home. 

Treat your fire like a toddler, watch them. Tumbling logs off the grate can

knock over a fireplace screen and start a house fire. Do not leave them

unattended.

Pick the right company. Do your homework on the company you choose to

inspect and sweep your fireplace/ furnace flues. What kind of certifications and

training do they have?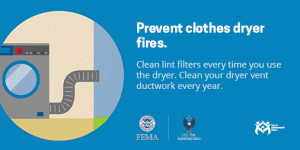 Facts about home clothes dryer fires:
2,900 home clothes dryer fires are reported each year and cause an estimated 5 deaths, 100 injuries, and $35 million in property loss.

Failure to clean the dryer (34 percent) is the leading cause of home clothes dryer fires.

More home clothes dryer fires occur in the fall and winter months, peaking in January.
Follow these simple safety tips to prevent a clothes dryer fire in your home:
Have your dryer installed and serviced by a professional.

Do not use the dryer without a lint filter. Clean the lint filter before and after

each cycle.

Do not forget to clean the back of the

dryer where lint can build up.

Check the venting system behind the

dryer to make sure that it is not damaged,

crushed or restricted.

Make sure that the outdoor vent covering

opens when the dryer is operating.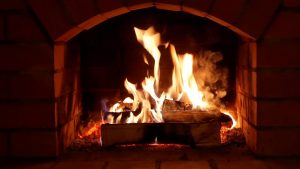 There is something about the winter months and curling up with a good book by the fireplace. But did you know that heating equipment is one of the leading causes of home fire deaths? With a few simple safety tips and precautions you can prevent most heating fires from happening.
FACT: Half of home heating fires are reported during the months of December, January, and February.
Keep anything that can burn at least three-feet away from heating equipment, like the furnace, fireplace, wood stove, or portable space heater.

Have a three-foot (one metre) "kid-free zone" around open fires and space heaters.

Never use your oven to heat your home.

Have a qualified professional install stationary space heating equipment, water heaters or central heating equipment according to the local codes and manufacturer's instructions.

Have heating equipment and chimneys cleaned and inspected every year by a qualified professional.

Remember to turn portable heaters off when leaving the room or going to bed.

Always use the right kind of fuel, specified by the manufacturer, for fuel burning space heaters.

Make sure the fireplace has a sturdy screen to stop sparks from flying into the room. Ashes should be cool before putting them in a metal container. Keep the container a safe distance away from your home.

Test smoke alarms at least once a month.
Heating Equipment Tips:
Install wood burning stoves following manufacturer's instructions or have a professional do the installation. All fuel-burning equipment should be vented to the outside to avoid carbon monoxide (CO) poisoning.
Install and maintain CO alarms to avoid the risk of CO poisoning. If you smell gas in your gas heater, do not light the appliance. Leave the home immediately and call your local fire department or gas company.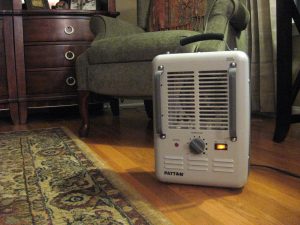 When the weather turns cold, it can bring a chill into our homes. Portable space heaters have become a popular way to supplement central heating or heat one room. If you plan to use portable electric space heaters, make sure to follow these tips and recommendations:
FACT: Two in five deaths in space heater fires involve portable electric space heaters.
HEATER CHECKLIST
• Purchase a heater with the seal of a qualified testing laboratory.
• Keep the heater at least 3 feet (1 metre) away from anything that can burn, including people.
• Choose a heater with a thermostat and overheat protection.
• Place the heater on a solid, flat surface.
• Make sure your heater has an auto shut-off to turn the heater off if it tips over.
• Keep space heaters out of the way of foot traffic. Never block an exit.
• Keep children away from the space heater.
• Plug the heater directly into the wall outlet. Never use an extension cord.
• Space heaters should be turned off and unplugged when you leave the room or go to bed.
Ladder Safety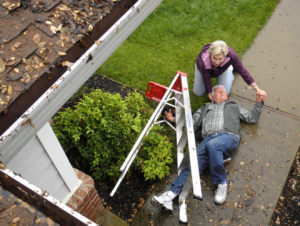 Cleaning the gutters is usually high on the fall clean-up list but it is also one of the most dangerous tasks if proper precautions are not taken.
Keep your ladder on a flat surface.

Have someone else hold the ladder as you climb.

Wear shoes with traction to avoid slipping in case the steps are wet.

Don't lean over past your arm's reach.

Don't stand on very top step of the ladder.

Wear gloves and eye protection.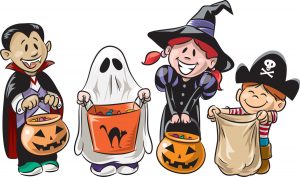 Halloween is a fun, and spooky, time of year for kids. Make trick-or-treating safe for your little monsters with a few easy safety tips.
FACT: Decorations are the first thing to ignite in 800 reported home fires each year. More than one-third of these fires were started by a candle.
When choosing a costume, stay away from long trailing fabric. If your child is wearing a mask, make sure the eye holes are large enough so he or she can see out.

Provide children with flashlights to carry for lighting or glow sticks as part of their costume.

Dried flowers, cornstalks and crepe paper catch fire easily. Keep all decorations away from open flames and other heat sources like light bulbs and heaters.

Use a battery-operated candle or glow-stick in jack-o-lanterns. If you use a real candle, use extreme caution. Make sure children are watched at all times when candles are lit. When lighting candles inside jack-o-lanterns, use long, fireplace-style matches or a utility lighter. Be sure to place lit pumpkins well away from anything that can burn and far enough out of the way of trick-or-treaters, doorsteps, walkways and yards.

Remember to keep exits clear of decorations, so nothing blocks escape routes.

Make sure all smoke alarms in the home are working.

Tell children to stay away from open flames including jack-o-lanterns with candles in them. Be sure they know how to stop, drop and roll if their clothing catches fire. (Have them practice, stopping immediately, dropping to the ground, covering their face with hands, and rolling over and over to put the flames out.)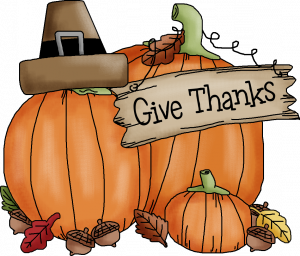 The kitchen is the heart of the home, especially at Thanksgiving. Kids love to be involved in holiday preparations.
Safety in the kitchen is important, especially on
Thanksgiving Day when there is a lot of activity and  people at home.
FACT:  Thanksgiving is the leading day of the year for home fires involving cooking equipment. Thanksgiving is the leading day of the year for home fires 
Stay in the kitchen when you are cooking on the stovetop so you can keep an eye on the food.

Stay in the home when cooking your turkey and check on it frequently.

Keep children away from the stove. The stove will be hot and kids should stay 3 feet away. 

Make sure kids stay away from hot food and liquids. The steam or splash from vegetables, gravy or coffee could cause serious burns.

Keep the floor clear so you don't trip over kids, toys, pocketbooks or bags.

Keep knives out of the reach of children.

Be sure electric cords from an electric knife, coffee maker, plate warmer or mixer are not dangling off the counter within easy reach of a child.

Keep matches and utility lighters out of the reach of children — up high in a locked cabinet.

Never leave children alone in room with a lit candle.

Make sure your smoke alarms are working. Test them by pushing the test button.