Severe Weather Preparedness
Hundreds of people die each year in the United States due to heat waves, hurricanes, lightning, flash floods, powerful thunderstorm winds, and winter storms or winter cold. Additionally, thousands of people are injured by these weather events each year. Will it happen to you?
The most important thing you can do BEFORE any type of severe weather strikes is have a plan! Develop a disaster plan for you and your family at home, work, school, and when outdoors. Don't forget to include your pets. There are a lot of websites out there that can help you make a plan, such as American Red Cross (www.redcross.org) or FEMA (www.fema.gov and www.ready.gov). 
Another important tip, put together a disaster kit.  Having the supplies handy will make a difference if you have to evacuate or shelter in place at a moment's notice. Additionally, basic services such as electricity, gas, water, sewage treatment and telephones may be cut off for days, weeks, or even longer. Your supplies kit should contain items to help you and your pets manage during these outages.
Have a NOAA Weather Radio All Hazards receiver unit with a warning alarm tone and battery back-up to receive warning bulletins.  Check the weather forecast before leaving for extended periods outdoors. Watch for signs of approaching storms.
Following these simple safety tips could save the lives of your family.
* Information obtained from National Weather Service, www.weather.gov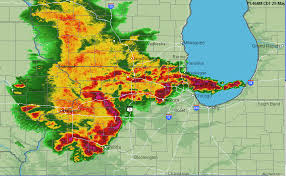 Watch vs. Warning
A National Weather Service WATCH is a message indicating that conditions favor the occurrence of a certain type of hazardous weather. For example, a severe thunderstorm watch means that a severe thunderstorm is expected in the next six hours or so within an area approximately 120 to 150 miles wide and 300 to 400 miles long (36,000 to 60,000 square miles). The NWS Storm Prediction Center issues such watches.
A National Weather Service WARNING indicates that a hazardous event is occurring or is imminent in about 30 minutes to an hour. Local NWS forecast offices issue warnings on a county-by-county basis.
For more information, check out these great websites:
www.disastercenter.com
www.weather.gov
www.fema.gov