Thanksgiving and Fall Safety Tips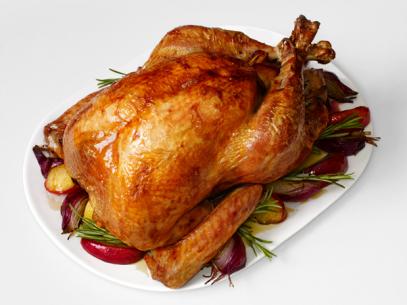 Thanksgiving safety tips from the National Fire Protection Association (NFPA):
• Stay in the kitchen when you are cooking on the stove top so you can keep an eye on the food.
• Stay in the home when cooking your turkey and check on it frequently.
• Keep children away from the stove. The stove will be hot and kids should stay 3 feet away.
• Make sure kids stay away from hot food and liquids. The steam or splash from vegetables, gravy or coffee could cause serious burns.
• Keep the floor clear so you don't trip over kids, toys, pocketbooks or bags.
• Keep knives out of the reach of children.
• Be sure electric cords from an electric knife, coffee maker, plate warmer or mixer are not dangling off the counter within easy reach of a child.
• Keep matches and utility lighters out of the reach of children — up high in a locked cabinet.
• Never leave children alone in room with a lit candle.
• Make sure your smoke alarms are working. Test them by pushing the test button.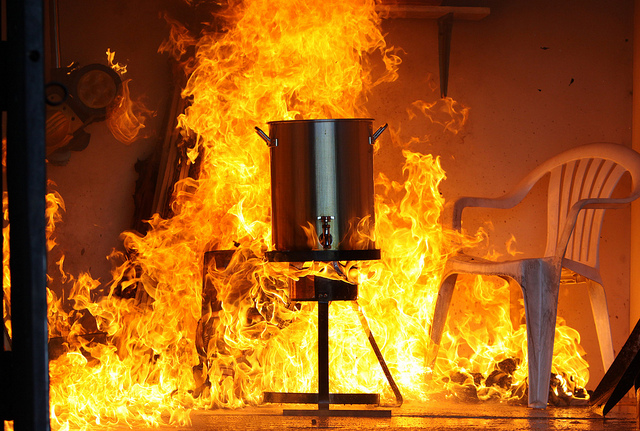 TURKEY FRYER SAFETY
The use of turkey fryers can lead to devastating burns, other injuries and the destruction of property.
The Dangers of Turkey Fryers
Hot oil may splash or spill during the cooking.
Contact between hot oil and skin could result in serious injury.
A hot oil spill can happen with fryers designed for outdoor use using a stand. The fryer could tip over or collapse causing the hot oil to spill. Newer counter top units using a solid base appear to reduce this risk. NFPA does not believe the risks of either type of turkey fryer to be acceptable because of the large amount of hot oil involved and the speed and severity of burns.
In deep frying, oil is heated to temperatures of 350° Fahrenheit or more. Cooking oil is combustible. If it is heated above its cooking temperature, its vapors can ignite.
Propane-fired turkey fryers must be used outdoors. They are very popular for Thanksgiving. Many parts of the country may have rain or snow at this time of year. If rain or snow hits the hot cooking oil, the oil may splatter or turn to steam, leading to burns.
Turkeys must be completely thawed before placing in the fryer, because a partially thawed turkey will cause the oil to splatter causing serious burns.
The fryers use a lot of oil, about five gallons. Considering the size and weight of the turkey, extreme caution must be taken when placing and removing the turkey from the fryer to be sure its is not dropped back into the fryer, splattering the oil on the chef.
Fall Safety Tips
Avoid burning leaves. Burning leaves is illegal in some areas. It also releases dangerous chemicals into the air, so try to find another way to get rid of them. If you must dispose of leaves this way, protect your face and do it far from your home. Also use caution if it's windy outside. And while raking those leaves, you can prevent an aching back by standing upright, pulling from your arms and legs, and bend at the knees to lift something.
Change smoke alarm batteries. The batteries should be changed twice per year. Many people use Daylight Savings Time as an easy way to remember to change smoke alarm and carbon monoxide detector batteries.
Make sure your heater is working. Before it gets too chilly, turn it on to test and make sure it sufficiently heats up your house. If it seems weak or isn't working at all, call a professional. You don't want to get stuck in a bind when the weather hits freezing temperatures.
Be careful with space heaters. They may be small, but they pack a powerful punch, able to heat one area or room on their own. Make sure there is plenty of space around the heater so it can vent and you don't want it to accidentally set something close to it on fire. Don't leave a space heater unattended.
Candle safety. While candles give off a great aroma and a soft glow, they are definitely fire hazards. Keep them away from flammable materials, light them in a place where kids or pets can't knock them over, and make sure to blow them out before leaving your house or going to sleep. The National Candle Association reports that almost 10,000 home fires per year start with faulty candle use.
Watch for poor weather conditions while driving. Rain, snow, fog, ice, and wet leaves are only a few dangers you may encounter on the road over the next few months. Roads can become slippery and visibility decreases in poor conditions, making pedestrians, bicycles, animals, and road signs hard to see.
Watch for children. Children like playing in piles of leaves. Be safe in neighborhoods where leaves may pile up.
Be safe driving in the dark and bright sunshine. The amount of daylight decreases through autumn and winter, which means you'll spend more time driving in the dark. Make sure you're using your headlights correctly and focus on your route. You'll also need to be careful in the morning. This time of year, the bright sunshine typically rises during morning rush hour. Have sunglasses on hand to protect your eyes.
Put together an emergency kit for your car. You never know when car trouble could arise. You may find yourself stuck on the side of the road in the rain, snow, or at night. Put together a first aid kit, a flashlight, jumper cables, a blanket, and other devices you think might be helpful.
Practice good ladder safety. Whether you're doing yard work or hanging Christmas decorations, you will likely use a ladder this time of year. Make sure it's the right height for the task at hand, it should be placed on level ground at all times, avoid stepping on the top rung, and follow other safe rules, like the ones outlined in this video.