Winter Driving Safety Tips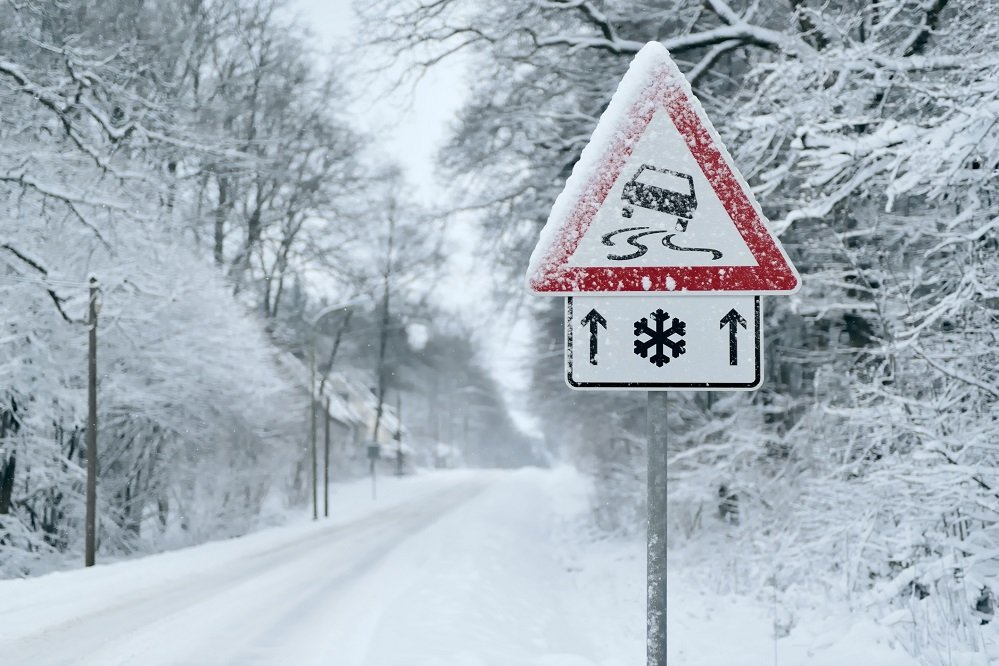 The safest thing to do is stay home. If you really don't have to go out, don't. Even if you can drive well in the snow, not everyone else can. Don't tempt fate: If you don't have somewhere you have to be, watch the snow from indoors.
Here are some tips:
Watch weather reports prior to a long-distance drive or before driving in isolated areas. Delay trips when especially bad weather is expected. If you must leave, let others know your route, destination and estimated time of arrival.

The normal dry pavement following distance of three to four seconds should be increased to eight to ten seconds. This increased margin of safety will provide the longer distance needed if you have to stop.

Know your brakes. Whether you have antilock brakes or not, the best way to stop is threshold breaking. Keep the heel of your foot on the floor and use the ball of your foot to apply firm, steady pressure on the brake pedal.

If you become snow-bound, stay with your vehicle. It provides temporary shelter and makes it easier for rescuers to locate you. Don't try to walk in a severe storm. It's easy to lose sight of your vehicle in blowing snow and become lost.

Make sure the exhaust pipe isn't clogged with snow, ice or mud. A blocked exhaust could cause deadly carbon monoxide gas to leak into the passenger compartment with the engine running.

If possible, run the engine and heater just long enough to remove the chill and to conserve gasoline.

Keep an emergency kit in your car, such as blankets, gloves, hats, food, water and any needed medication in your vehicle. Make sure your cell phone is charged before leaving.
Plan long trips carefully and listen to the radio or television for up-to-date weather forecasts and road conditions. In bad weather, drive only if absolutely necessary.
Prepare Your Car for Emergencies
Have a mechanic check the following on your car before an emergency:
Antifreeze levels

Battery and ignition system

Brakes

Exhaust system

Fuel and air filters

Heater and defroster

Lights and flashing hazard lights

Oil

Thermostat

Windshield wiper equipment and washer fluid level
Car Safety Tips
Keep your gas tank full in case of evacuation or power outages. A full tank will also keep the fuel line from freezing.

Install good winter tires and make sure they have enough tread, or any chains or studs required in your local area.

Do not drive through flooded areas. Six inches of water can cause a vehicle to lose control or possibly stall. A foot of water will float many cars.

Be aware of areas where floodwaters have receded. Roads may have weakened and could collapse under the weight of a car.

If a power line falls on your car you are at risk of electrical shock. Stay inside until a trained person removes the wire.

If it becomes hard to control the car, pull over, stop the car and set the parking brake.

If the emergency could affect the stability of the roadway avoid overpasses, bridges, power lines, signs and other hazards.
The above information and more preparedness tips can be found on ready.gov.  This link will open a new page.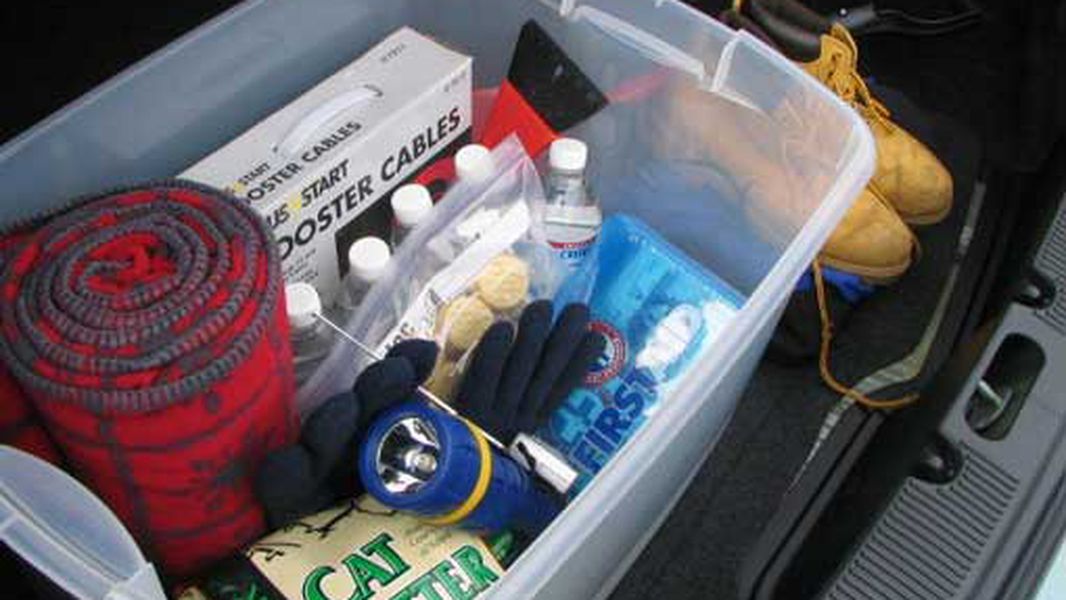 Emergency Kit for the Car
In case you are stranded, keep an emergency supply kit in your car with these automobile extras:
Jumper cables

Flares or reflective triangle

Ice scraper

Car cell phone charger

Blanket

Map

Cat litter or sand (for better tire traction)

First Aid Kit