Candle Safety
Whether you celebrate Christmas, Hanukkah, or Kwanzaa, people tend to decorate with candles during these holidays. Oh sure, they look pretty, but they can be very dangerous when left unattended. During the months of October through January, candles are the number one cause of home fires and fire deaths. To help keep your family safe, think about using flameless candles in your home. They look and smell like real candles.
If you do use candles, please remember these tips:
Blow out all candles when you leave the room or go to bed. Avoid the use of candles in the bedroom and other areas where people may fall asleep. 

Keep candles at least 12 inches away from anything that can burn. 

Never use a candle if medical oxygen is used in the home.

Use candle holders that are sturdy, and won't tip over easily.

Keep matches and lighters up high and out of children's reach, in a locked cabinet.

Make sure your smoke alarms are in working order.

Consider using battery operated candles.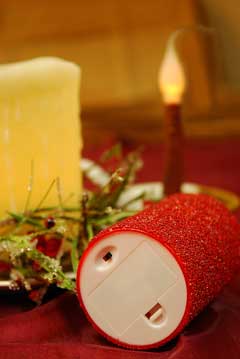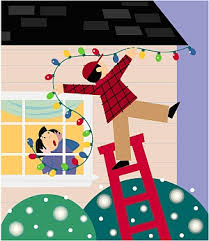 Decorations
Stand your tree (fake or real) at least three feet away from fireplaces, radiators, and other heat sources.

Only use indoor lights indoors (and outdoor lights only outdoors). Check lights for broken or cracked sockets, frayed or bare wires, and loose connections. Replace or repair any damaged light sets.

Extension cords should be placed against the wall to avoid tripping hazards, but do not run cords under rugs, around furniture legs or across doorways. Unplug extension cords when not in use.

Turn off all lights on trees and decorations when you go to bed or leave the house.

Remove hanging decorations from the fireplace mantle when a fire is lit.
Ladder Safety
When putting up holiday decorations, always use the proper step stool or ladder to reach high places. Don't stand on chairs, desks or other furniture.

When climbing, do not lean too far or overreach. Reposition the ladder closer to the work instead. 
Holiday Entertaining
Test your smoke alarms and tell guests about your home fire escape plan.

Keep matches and lighters up high in a locked cabinet.

Roll up and remove any throw rugs to avoid tripping hazards.

Keep children and pets away from out of the kitchen area.

Stay in the kitchen when cooking on the stovetop.

Set a timer for food that is in the oven.

Ask smokers to smoke outside. Remind smokers to keep their smoking materials with them so young children do not touch them. Provide large, deep ashtrays for smokers. Wet cigarette butts with water before discarding.